Popular Nigerian dancer and singer Korra Obidi has finally revealed her real age for the first time.
In a recent post shared via her Instagram page, the singer said she's been keeping her age secret the longest for reasons she's most familiar with.
However, the mother-of-two celebrated her birthday a few days ago and decided it was finally time to reveal her secret.
The young mother-of-two revealed that she just turned 32 when she shared an adorable photo of herself on her Instagram page.
However, this did not surprise most Nigerians who noticed that the dancer looked her age. However, she was also praised for maintaining her figure despite having two children.
Korra Obidi wrote on her Instagram page:
"For a long time, I avoided questions about my age like it was a personal medical history. In the past, my caption would say, '+1 today' and anyone who asked my age would be blocked, blocked and delete. 😜
"I'm 32 years old. I want to scream to the highest heaven. I'm 32 years old!!!! I unlocked a new level, "I don't care! "
See her post below: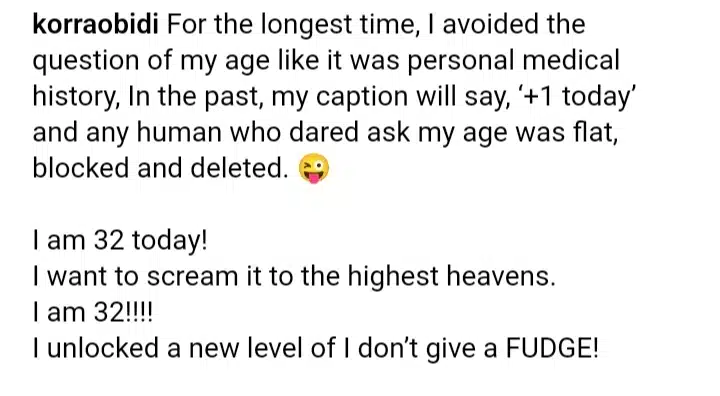 Join our Telegram platform for news updates

join now