The release date of the animation of "Liar, Liar" is confirmed as July 8, and the animation is produced by GEEKTOYS Studio.
summary
In Academy Island, everything is solved through a "game" with a certain number of stars, and the strongest students get a ranking of seven stars. wide peopleThe transfer student actually defeated the strongest empress and became the strongest fake in the whole school!
by: MAL
key point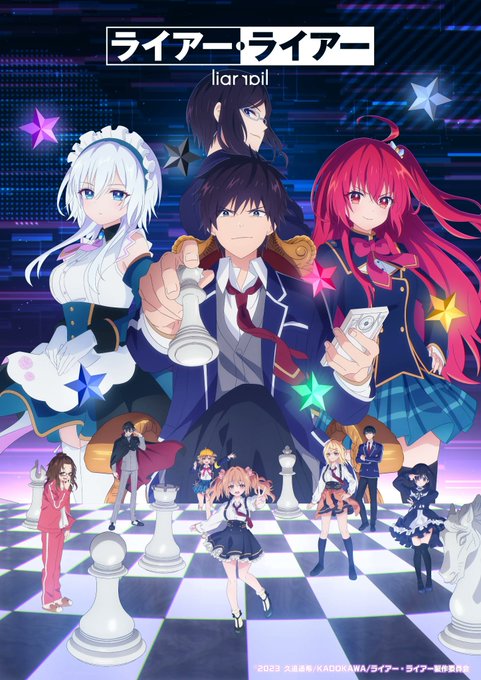 trailer
to throw
Voiced by Hiroto Shinohara: Genta Nakamura
Himeji Shirayuki voice: Shuto Yukina
Voiced by Saionji Sagasa: Kuramochi Wakana
Naoya Akizuki voiced by: Rika Tachibana
Tsumugi Shiina voiced by: Yurika Moriyama
Voiced by Natsume Ichinose: Fengko Kuwashima
Kagaya Ami Voice: Hibiki Yamamura
Fūka Tatara Voiced by: Momoko Seto
Voiced by Yūki Tsuji: Mai Mochizuki
Seiran Kugasaki Voiced by: Jun Fukuyama
Kazami Suzuran Voiced by: Sora Tokui
Voiced by Shinji Enomoto: Junya Enoki
Voiced by Nanase Asamiya: Saori Onishi
Check out our other news on LAN. We cover everything anime and gaming related and always do our best to bring you the latest news and episode reviews! Today I recommend "Blue Lock: Nagi Theatrical Edition", the new trailer of "I have cheating skills in a different world and I am invincible in the real world", the new trailer and premiere date of "Dark Gathering" TV animation.